Support
Thanks for purchasing Photo Fixer! We're excited to have released the app and are looking forward to making it better through your suggestions. If you have any comments or questions, please send us an email at:
adam -at- scilian.com
About
Photo Fixer is an exciting new image processing application for the iPhone, iPod touch, and iPad that allows you to easily remove unwanted items from your photos! Unlike some other apps which simply crop out an entire slice of the photo, Photo Fixer uses advanced algorithms to actually fill in the background with appropriate textures for that area. Photo Fixer has brought the magic of content aware fill to the iPhone! Check out the sample images below to see the power of Photo Fixer!
Usage
Photo Fixer is simple and fun to use. Simply start the app and touch the 'load' button to load a picture from your library. Second, zoom, pan and select the item which you want to remove. Third, touch the 'erase' button and review your results. If you wish to save the image, simply tap the 'save' button. Photo Fixer always creates a new file and never overwrites your original.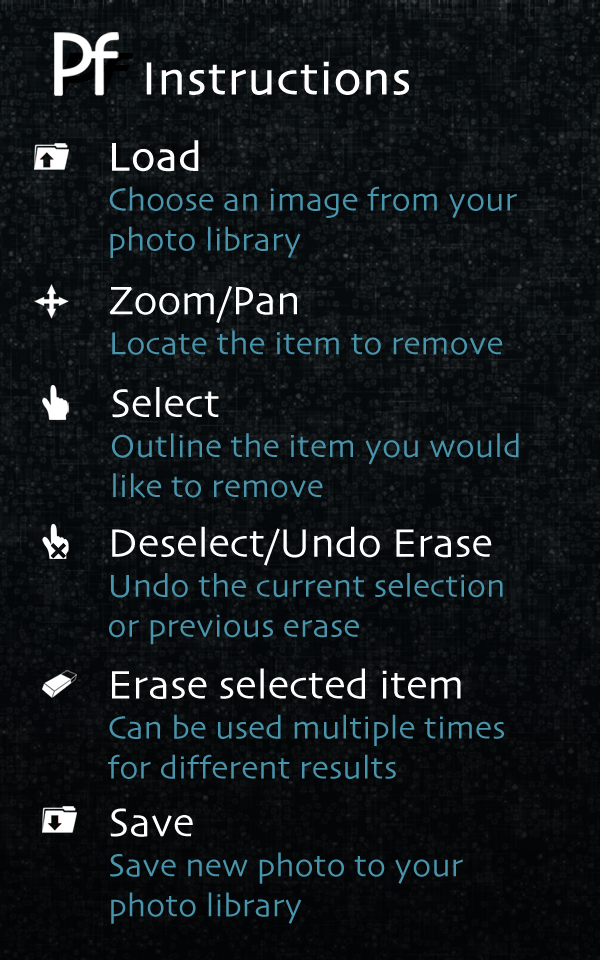 Hints
After removing an item, Photo Fixer will highlight the affected area with a green box. At this point you have a few options:



Like the results?
Simply tap the 'Save' button to save the photo (Don't worry, the green box will not be saved).


Close but not quite?
Let Photo Fixer try again by simply taping the 'erase' button again. Your results will be slightly different with every run.


Want to remove more?
Press the 'select' button and repeat!





Photo Fixer does a great job removing facial blemishes. Fix up your photo before sending to your firends!


Photo Fixer works best removing items that are on top of some sort of texture like grass, wood, leaves, or water. Removing items on top of a very complicated background is possible, but needs to be done piecewise.


The larger the item you select, the longer it will take to process. Try working with smaller selections for better performance.


Photo Fixer intentionally places no limits on the file size that it will load. Note that older devices have less RAM and may not support extremely large files. All devices work great with photos taken by that device.